Robert "Bob" Thompkins is the real estate agent who sold Adrienne and Don the Carnovasch Estate.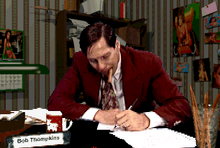 Role in game
Edit
Bob plays a minute role in the early portion of the game. He owns the real estate agency located in Nipawomsett, which does not appear to be open very often after the first chapter or two of the game.  Once he unloads the Carnovasch Estate, he seems ready to wash his hands of the property and of Adrienne and Don.
Adrienne's first interaction with him after moving into the mansion is to retrieve a key that he forgot to give Don, which she will use to open up previously inaccessible parts of the house.  The second time she returns, she finds him flirting with a somewhat scantily clad woman, which she almost promptly walks out on.
After that, Bob does not seem to come up again in the story.
Appearance
Edit
Bob appears to be in his mid to late thirties.  He wears a business suit, and he has dark hair and eyes.
Personality
Edit
Bucking the tradition of the friendly and outgoing citizens of Nipawomsett, Bob appears to be a self-centered '"sleazeball", as described by Adrienne.  He seems to be irresponsible, as he tells Adrienne to find the key that she is looking for herself in his office, and it would be easy to believe that he is a misogyinst based on his interactions with females.
Ad blocker interference detected!
Wikia is a free-to-use site that makes money from advertising. We have a modified experience for viewers using ad blockers

Wikia is not accessible if you've made further modifications. Remove the custom ad blocker rule(s) and the page will load as expected.